Anne Griffith-McNally
After graduating from Kutztown University with a bachelor's degree in Liberal Arts, Anne Griffith-McNally became a photojournalist working for various trade magazines and newspapers. Eventually she became writer, editor and photographer for the Federal Reserve Bank of Philadelphia. Although she later became a human resources professional and earned a master's degree in Strategic Leadership, her love for the written word and artistic expression never left her.
Anne is an avid equestrian who frequently takes photographs while on horseback or during carriage rides. She has named her dual passion HORSEOGRAPHY. Her equestrian network often calls upon Anne to photograph them in their stately homes or to capture their beloved children and/or horses, cows, alpacas, sheep, goats, chickens, dogs and cats. Several of her photos were published in Horse of Delaware Valley (see web page). She has also been published in the Centreville Gallery's annual calendar of Belted Galloway Cows.
Anne excels in candid portrait work. Her photographs from Italy and Ireland have won public acclaim. She has the ability to capture the spirit and personality of her subjects.
As a member of Longwood Gardens, the Brandywine River Museum, Delaware Art Museum and Philadelphia Museum of Art, Anne's portfolio also represents horticulture, historic architecture and art. Anne has been commissioned to photograph the artistic works of American Artist and Andrew Wyeth prodigy--Karl J. Kuerner III. Anne considers Ring Farm her outdoor studio. She has written numerous poems about this inspirational artistic legacy.
A love of history is evident in her photos that are featured on the Delaware County History.com. Anne is an Animal Husbandry Volunteer at Winterthur where she takes care of 5 goats and 8 sheep. She also works part time as a docent at Hagley Museum & Library.
More than 100 of Anne's photographs are on permanent display at Dunwoody Village in Newtown Square. She was actively involved in the selection and placement of her pieces in the Alzheimer wings. Anne's mother was stricken with the debilitating disease for over 10 years. Her photos provide a familiar calming sight for Dunwoody residents.
Anne and her husband Tom recently exhibited their art work at West Chester University.
Juried competitions include Plein Air Brandywine Valley and Southern Delaware. She is also a watercolorist who is inspired by American realism.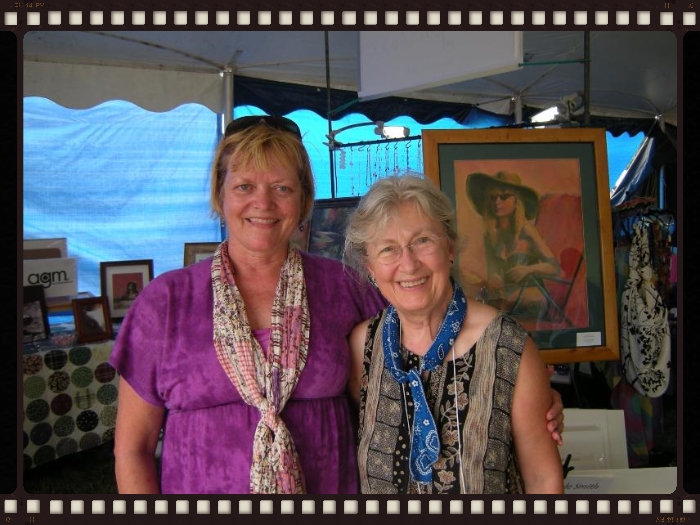 Anne exhibited with fine artist Mary Rinderle at Rockwood Manor's Old Fashioned Ice Cream Festival. Mary also participated in Plein Air of Brandywine and Southern Delaware.
Anne is shown here with her rescue dog Neka and adopted dog Remy on a photoshoot near the Harriet Tubman statue in Bristol .